NEW!!! 
An award for young filmmakers in grades 9 through 12 in memory of Barry Lank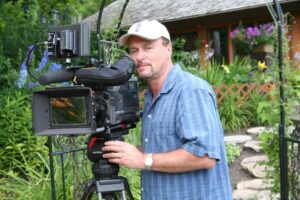 Barry Lank's passion for human rights and film led his travels worldwide, combining the two to create essential and meaningful pieces that help educate people from all walks of life. Barry and his wife, Luanne travelled the world with their lens, shedding light on meaningful topics, often somewhat unknown to the public. Whether that was filming in war-torn areas like Rwanda, or Sierra-Leone filming a piece on war-affected children, Barry was always working to highlight stories about social injustices. Several years ago, Barry named the Jewish Foundation of Manitoba beneficiary of an insurance policy, an act he hoped would convey the message that something so simple can be incredibly beneficial in the long run. In the wake of Barry's passing, a new annual award has been created in his memory in hopes of sharing his passions with students. The award will be administered by the Jewish Heritage Centre of Western Canada and is open to students in Grades 9-12, who will apply by completing a multi-media project on any Human Rights topic. Both the length and the medium for the project are up to the student's discretion. Barry's films always highlighted injustices happening around the world, with the hope that it would motivate people to act differently. Submissions for this award should be no different. As the world continues to change, so do the methods with which we tell stories. Social media, smartphones, and the internet have surrounded us with endless content. Students will add to that content, diving into issues that we currently face and those which have marked our history. Turning to one another to help learn these stories about important, engaging, and timely topics is an opportunity that cannot be overlooked. Everyone has a story to share, everyone has lessons to learn, and everyone has issues that are near and dear to them.
Criteria
Open to students in Grades 9-12 who have produced a media project (e.g. short film, documentary, music video, commercial, or public service announcement) with a focus on social justice and human rights.
Think about what issues people currently face and have historically faced in your local and global communities. What issue resonates with you? You can focus on something narrow or broad, a first-hand account or a narrative about a historical event. Some broad examples include antisemitism, refugees, LGBTQ+ rights, climate action, disability rights, and more. Don't worry if your issue is "big" or "small" – all issues are important.
The goal is to create a project that is unique and makes a contribution to society. Don't be afraid to tackle important stories and stand up for what you think is right. Insightfulness, boldness, and sensitivity to the subject matter are critical.
Your video/media project should raise awareness about the social justice issue you have chosen. By raising awareness, you are affecting meaningful change in your community.
The length of your project is up to you, and may depend on the style of media project you create. A PSA or commercial may be shorter in length than a mini-documentary. You will not be evaluated on how long your project is, only on style and content.
Deadline for entries January 1 of each calendar year.
Contact j[email protected] for further information or to submit your entry.