Education During COVID-19 and Beyond
The Jewish Heritage Centre is pleased to let you know that we are launching our e-learning program for students in middle school through university. The program includes three interactive modules (each representing approximately 1.5 to 2 hours of class time). As well, we are offering educators eleven survivor interviews filmed several years ago in view of our aging survivor volunteers – the youngest of which is in their late 80s. Accompanying JHC archival materials will also be provided. There are specific restrictions around the use of these materials, so we will provide an agreement for educators to sign which will protect against possible misuse by a third party.
The three interactive presentations focus on 1) The Holocaust 2) Antisemitism 3) Antisemitism in Canada. Each one is based on the latest best practices in education (as recommended by the 34 countries of the Holocaust Remembrance Alliance).
The goals of the presentations are as follows:
To develop knowledge of the Holocaust, racism and antisemitism ensuring accuracy in individual understanding and knowledge and raising awareness about the possible consequences of racism and antisemitism;
To create engaging teaching environments for learning about the Holocaust, racism and antisemitism, including Canada's checkered history– past and present;
To promote critical and reflective thinking about the Holocaust, racism, and antisemitism;
To contribute to Human Rights and genocide prevention education.
For a list of the videos available (including grade levels, length, and other details and/or to register your class for an interactive session, please write to [email protected]
Presentations in the Freeman Family Foundation Holocaust Education Centre
[wpforms id="1357″]
We would like to invite you to bring your students to a presentation at our Holocaust Education Centre. The two-hour presentation begins with an academic overview of the events leading up the Holocaust. A local survivor presents his or her story to the students during the second hour, followed by a question and answer period. These presentations are offered for grades 7 to 12 and are tailored to the age group. The academic presenters try to gear their presentation to the students' prior knowledge of the subject.
Our presentations are designed to enrich the curriculum and to offer students opportunities and materials for reflection, discussion and further research into a range of issues. Our intention is to raise awareness and understanding of the history of the Holocaust as a universal human rights issue. We address the fact that society continues to witness genocide due to continuing racism and hatred and that we must all be vigilant in opposing racism, antisemitism and other forms of bigotry.
The Freeman Family Foundation Holocaust Education Centre is located at the Asper Jewish Community Campus. Visitors enter by walking through a replica of the boxcar doors which sealed the fate of so many of those transported to the death camps during the Holocaust. The Centre's exhibits consist of artefacts donated by Manitoba Holocaust survivors and their families. Text panels further outline the history of the Holocaust.
There is no charge for these presentations; however, donations would be gratefully appreciated as they help us pay for our overhead costs and ensure that we are able to continue our programming. Tax receipts are available.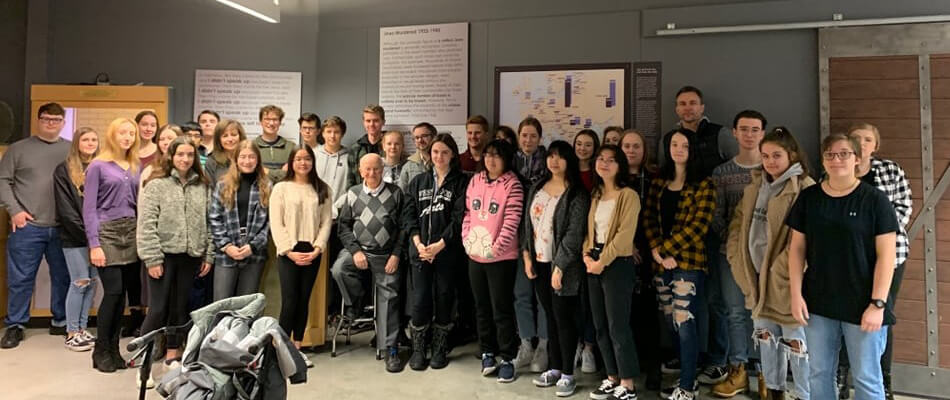 Westwood Collegiate Students with Holocaust Survivor Isaac Gotfried