To register for this program, click here or on the poster
Please join us for International Holocaust Remembrance Day on January 27, 2022. Once again, we are pleased to partner with the Canadian Museum for Human Rights. This year, the local Portuguese community  joins us as we honour the memory of Aristides de Sousa Mendes with a film about this courageous diplomat followed by a Q & A. The Ambassador of Portugal to Canada will also be bringing greetings.
Aristides de Sousa Mendes served as the Portuguese Consul in Bordeaux, France during World War II. He defied his government by providing visas to some 30,000 people, including approximately 10,000 Jews. A Portuguese visa would allow them safe passage through Spain to Lisbon, where they could travel to other parts of the world. For his act of defiance Sousa Mendes was severely punished by Portuguese dictator, Antonio de Oliveira Salazar, stripped of his diplomatic position and forbidden from earning a living.
Before his death in 1954, Sousa Mendes asked his children to clear his name and have the honor of the family restored. His sons and daughters, along with their children – now scattered all over the world – have fought for decades to have his deeds posthumously recognized. On October 18, 1966, Yad Vashem recognized Aristides de Sousa Mendes as Righteous Among the Nations.
On July 19, 2021, the day of his 136th birthday, his bust was unveiled inside Portugal's Parliament chamber and on October 2021, a ceremony honoring him took place at the National Pantheon, following a resolution approved by the Portuguese Parliament. De Sousa Mendes' heroic efforts were thus finally recognized by his country and his honour officially restored. As well, the US Senate passed a resolution on March 3, 2021, honoring Aristides de Sousa Mendes. A public space in Paris, France, will be dedicated to him, in 2022, with a plaque on his honor.
2022 Sol & Florence Kanee Lecture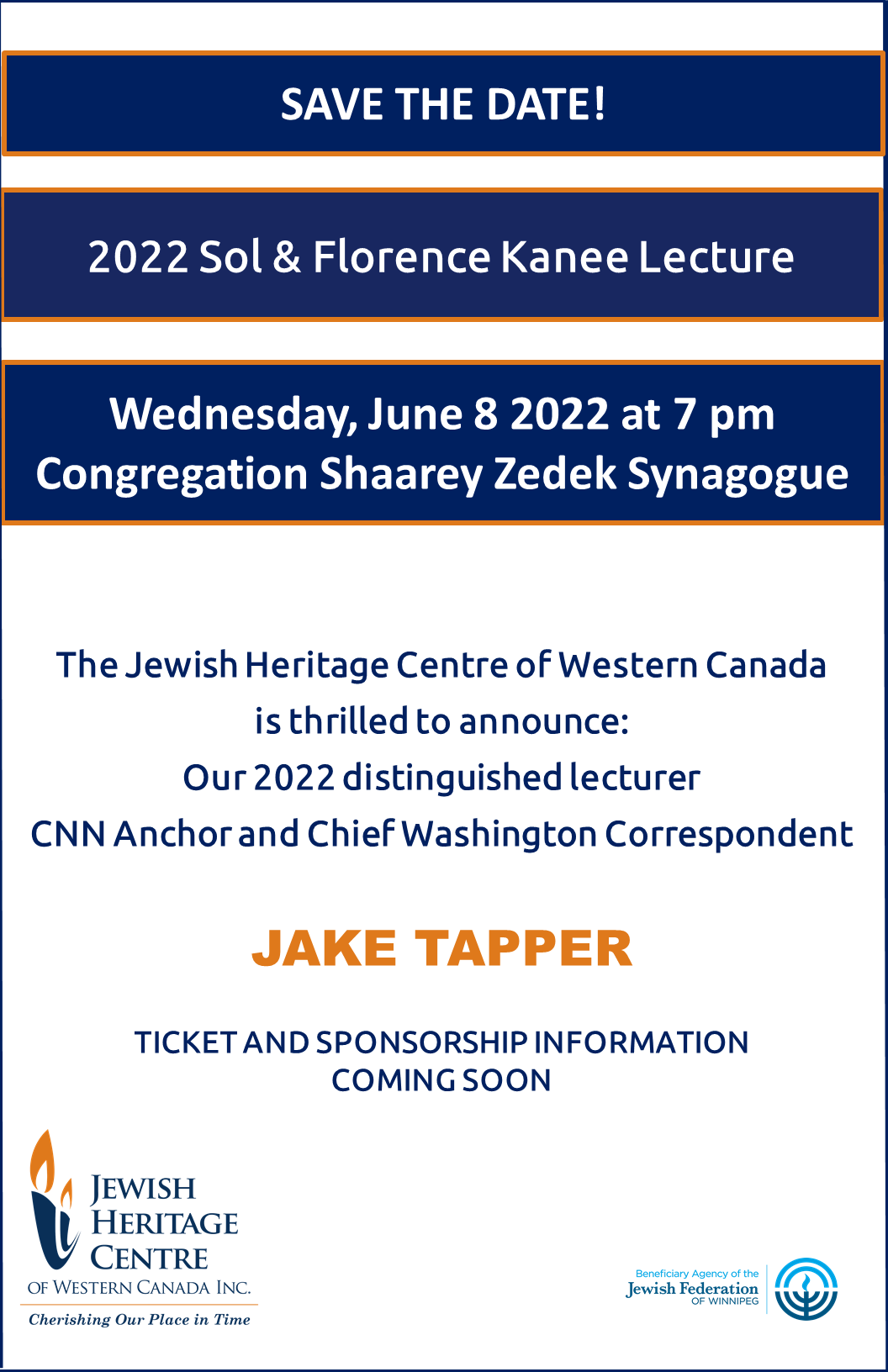 The Jewish Heritage Centre of Western Canada is thrilled to announce that the 2022 Sol and Florence Kanee Distinguished Lecturer will be Jake Tapper. CNN Anchor and Chief Washington Correspondent, Mr. Tapper is the recipient of three Merriman Smith Memorial Awards from the White House Correspondents' Association for his work. He was also part of a team that was awarded an Edward R. Murrow Award for Video: Breaking News for "Target bin Laden: The Death of Public Enemy #1." Mr. Tapper is also a best-selling author and has published both fiction and non-fiction works that have met with critical acclaim. His book, Outpost: An Untold Story of American Valor and his reporting on the veterans and troops were cited when the Congressional Medal of Honor Society awarded him the "Tex" McCrary Award for Excellence in Journalism.
The 2022 Sol and Florence Kanee Distinguished Lecture is slated for June 8 2022 and will take place at the Congregation Shaarey Zedek Synagogue. Ticketing (Eventbrite)  and sponsorship information to be announced in early 2022.
Please direct any questions to jewishheritage@jhcwc.org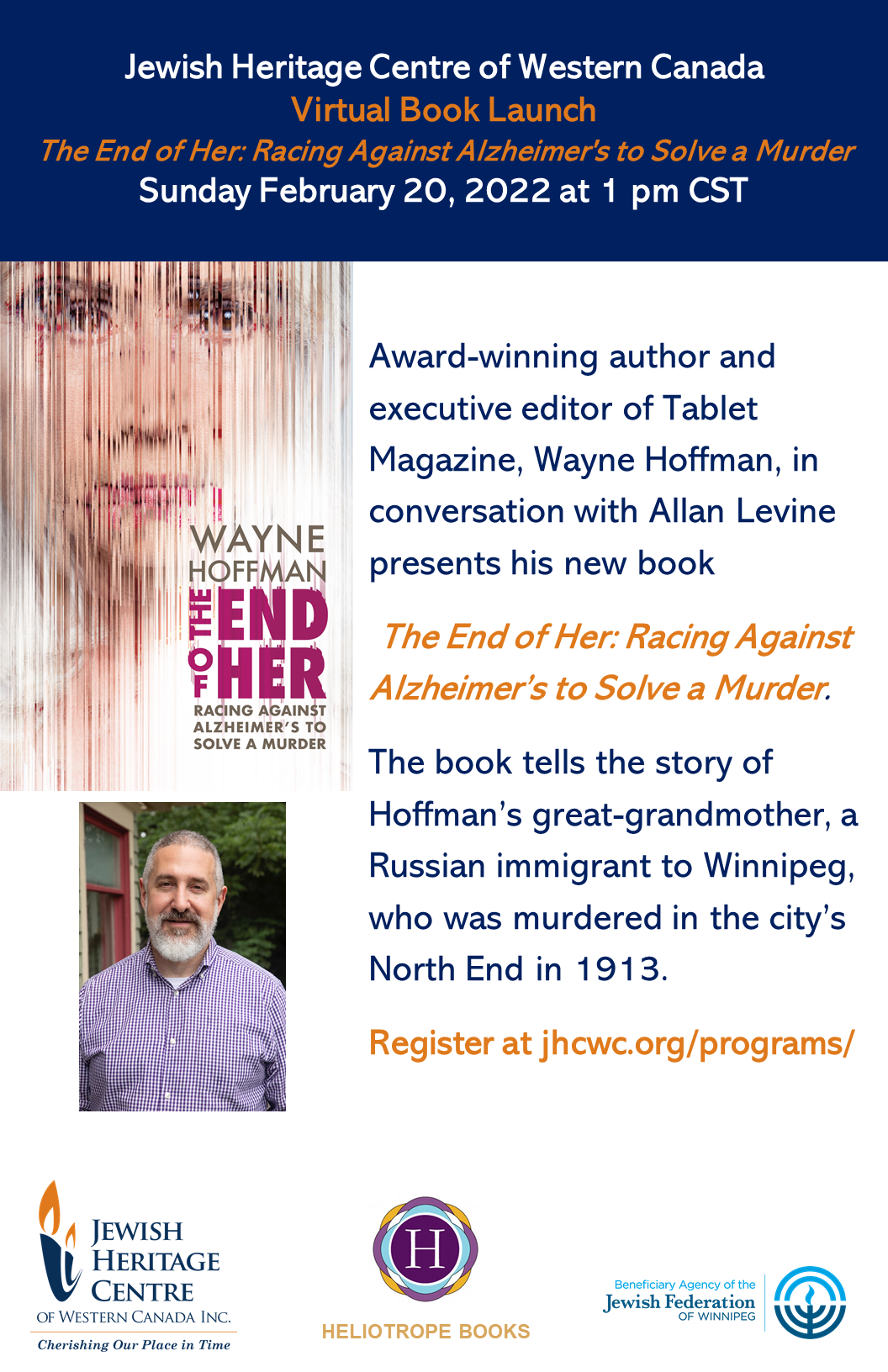 Join us for a fascinating book launch with author Wayne Hoffman in conversation with Allan Levine.
Wayne Hoffman is executive editor of Tablet, a daily online Jewish magazine, and his cultural reporting has appeared in The Washington Post, Wall Street Journal, The Forward, Hadassah Magazine, The Nation, Village Voice, Slate, and elsewhere. He has also published three novels, including the Stonewall Book Award-winning Sweet Like Sugar. Although he lives with his husband in New York City and the Catskills, he has roots in Winnipeg: His grandmother was born and raised here, and his great-grandmother—a Russian immigrant—was murdered in the city's North End in 1913, which served as the catalyst for his new true crime memoir The End of Her: Racing Against Alzheimer's to Solve a Murder. You can read more at waynehoffmanwriter.com.
Allan Levine is an award winning author, including Coming of Age: A History of the Jewish People of Manitoba (2009), written for the Jewish Heritage Centre of Western Canada. Allan has spent his career bringing history to life and commenting on current events in the Winnipeg Free Press, the  National Post, and Tablet Magazine.