Due to COVID-19, the JHCWC has pivoted to a virtual platform for all our  events until further notice.   Please visit  our YouTube channel to view the recordings of any events you may have missed.
Looking Ahead to the Jewish Heritage Centre's 2021 Virtual Programming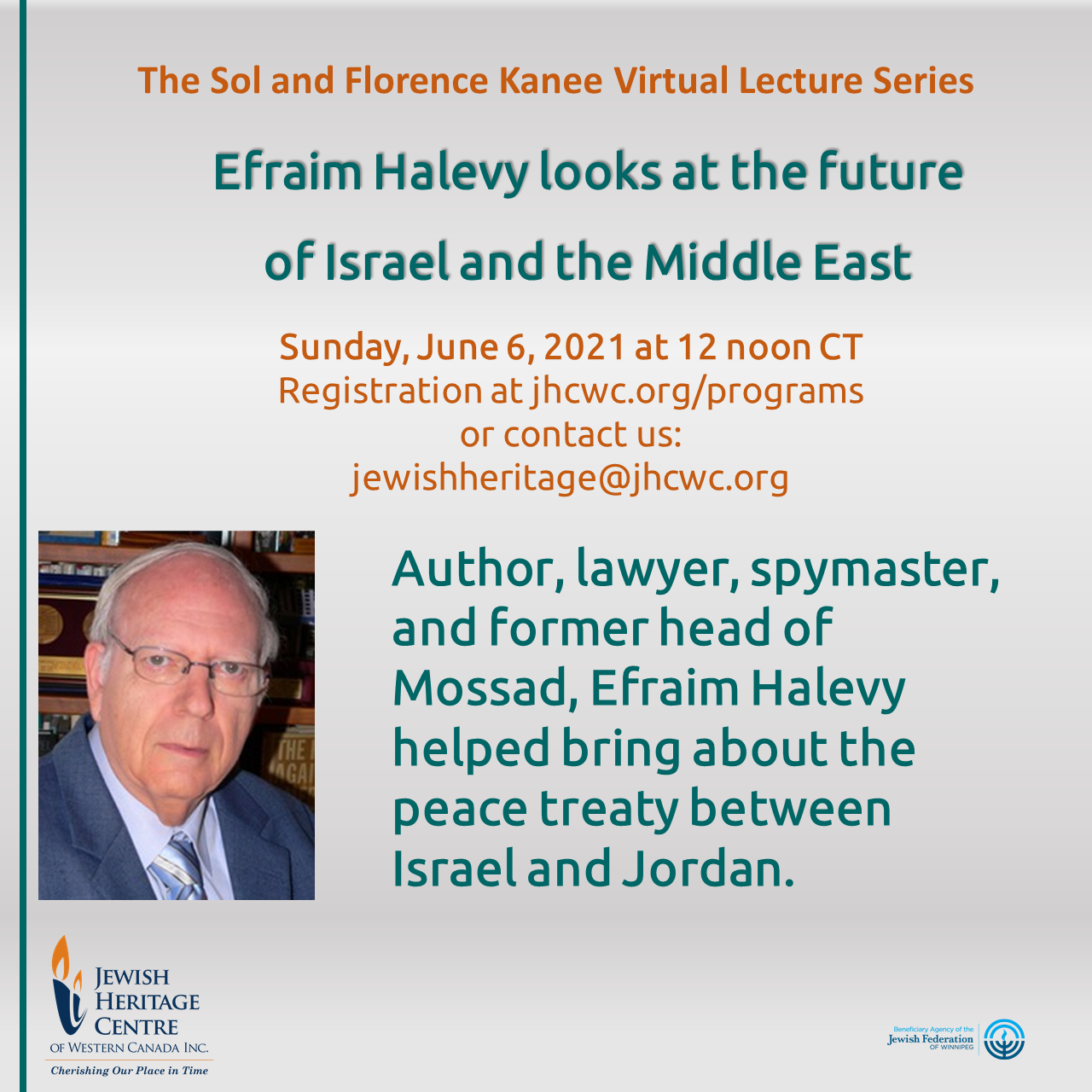 Efraim Halevy was born in London U.K. before World War II, and emigrated to Israel in April 1948, a month before the State was established. He graduated from the Hebrew University in 1956 with a degree in Law (cum laude) During that period, the height of the Cold War, he served as Secretary General of the National Union of Israeli Students and led its delegations to international conferences both in the West and behind the Iron Curtain.He played a role in creating contacts with young Jews behind the Iron Curtain in the mid-1950s.
Halevy joined the Mossad in 1961 in a junior capacity as a desk and field officer; in six years, he rose rapidly in the ranks and was promoted to the senior management level in 1967. In 1970. he came to Washington D.C. as station chief and served there for four years, mostly during the time when General Yitzchak Rabin, former chief of Staff of the Israel Defense Forces was Ambassador. This period included the Yom Kippur war of 1973, when he played a key role in the US-Israeli relationship.
Halevy went on to serve in Paris where he was charged with a major role in Western European activities. As of 1980, he commanded two operational divisions, each for a period of five years, and was then appointed deputy head in 1990. Amongst his diverse activities, he served as the personal envoy of five Prime Ministers (Shamir Rabin Netanyahu Barak and Sharon) to heads of state on matters of high diplomacy and strategic security. He was publicly acclaimed by Prime Minister Rabin as a key figure liaising with King Hussein leading up   to the peace treaty concluded between Israel and Jordan in the year 1994. He was similarly active in the Persian Gulf area between the years 1975- 2002 and maintained links with highest levels in most of the independent states in that region.
Halevy retired from the Mossad in 1995 as deputy head and served as Israeli Ambassador to theEuropean Union from 1996 to 1998. He spearheaded the diplomatic efforts to obtain Israel's accession as a fully-fledged partner in the European Union program for science and technology. This has opened the way for Israel's extensive partnerships with European. counterparts in Academia and Industry as of 1998 till the present day to the tune ofhundreds of millions of dollars.
Prime Minister Benjamin Netanyahu hastily recalled him to take the helm of the Mossad in1998 until 2002 and he then went on to serve as national security advisor and head of the national security council for one year (2002-2003). Halevy was called to lead the Mossad following its abortive attempt to assassinate Hamas figure, Khaled Mashal, in the year 1997. He personally resolved this acute security and diplomatic crisis in one-on-one talks with King Hussein. He served as Head of the Mossad under three Prime Ministers: Netanyahu, Barak, and Sharon, and as deputy Head under two Prime Ministers, Rabin and Shamir.
Halevy left public service after 46 years and then he headed up the Center for Strategic Studies at the Hebrew University for eight years finally retiring in 2011.
Halevy is known for a number of key events in his career; he commanded the Ethiopian Jews rescue operation in Sudan; for five years he brought over sixteen thousand men , women and children from the Sudanese desert to safety in the 1980s, fostering a unique relationship with the late King Hussein in Jordan and negotiating the details of the peace treaty in secrecy with him, and as stated—solving the crisis that arose  over the Mashal affair .
He  became a frequent behind-the-scenes traveler in the Middle East. During his long forty year career at the Mossad he participated in and led countless clandestine operations, which will long be shrouded in secrecy.
Halevy is a graduate of the Israel National War College and the SMG senior management program at Harvard University. He was awarded the Istiqlal (Independence) Order (First Grade) of Jordan, the Directors Award of the Director of the C.I.A. and the Israel President Herzog Prize for his service in the areas of national defense and diplomacy.
In recent years, Efraim Halevy has made the circuit as a staunch spokesman for Israel,giving major addresses from coast to coast and in Europe and as far away as Japan and Australia He writes frequently for Israeli and international dailies and periodicals, including The Economist, The Financial Times, The London Times, The New York Times, and Foreign Affairs toname a few. He often appears on BBC, CNN, Aljazeera television programs and on BBC radio.
Halevy published a book, Man in the Shadows – the Middle East in the Eyes of a Man who led the Mossad. Published simultaneously in New York and London, it has appeared innine translations including Arabic – a joint project of two publishing houses in Cairo andBeirut. It is a very accurate translation and has only one addition on its cover – a largeSlogan, " Know Your Enemy. "
Efraim has been married to Hadassa for more than sixty years, and has two children and six grandchildren.
Now Available on our YouTube Channel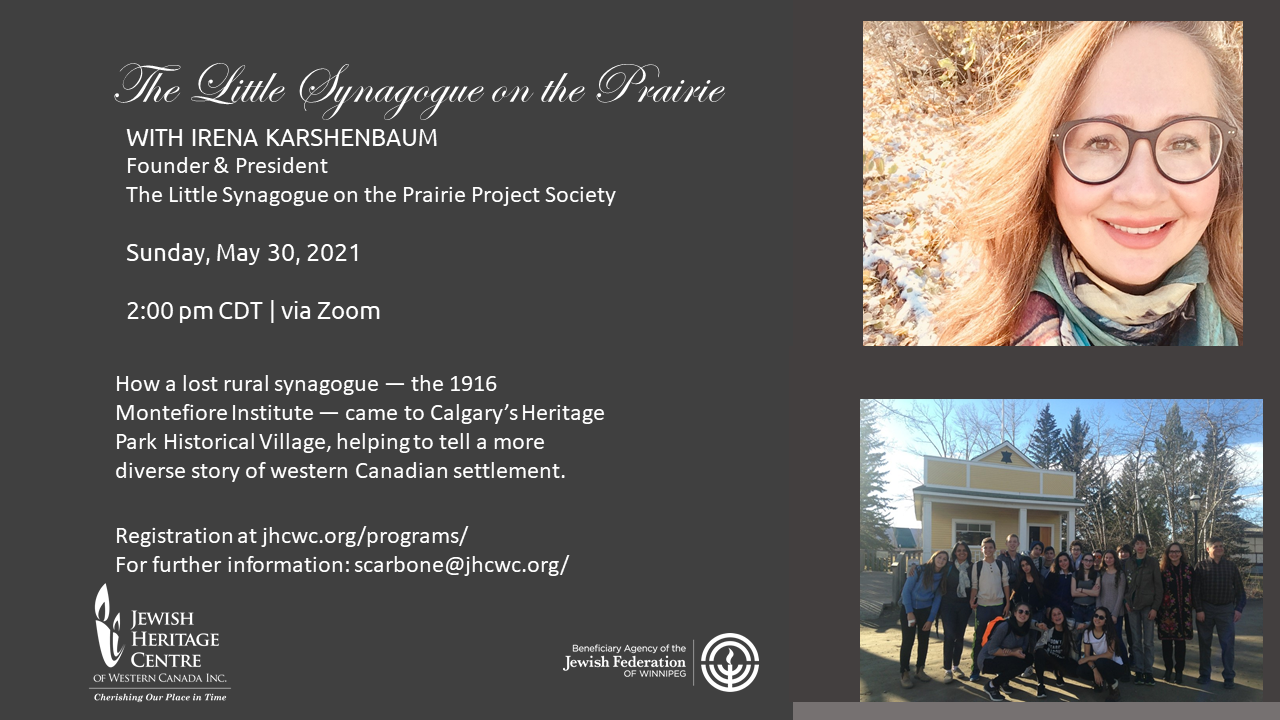 Sunday May 30 at 2 pm
"The Little Synagogue on the Prairie"
 With Irena Karshenbaum (Calgary)