Jewish Historical Society of Western Canada
Our Legacy
The Jewish Historical Society of Western Canada was founded in May 1968. We operated for over 30 years, functioning as the standing committee on history, research and archives of the Canadian Jewish Congress. Our objectives were to gather, record, preserve and present the history and the religious and cultural heritage of the Jewish People of Western Canada. To that end, the Society conducted a continuous program of acquiring documents, photographs and memorabilia; and engaged in an extensive oral history program.
In January 1999, the Jewish Historical Society of Western Canada amalgamated with the Marion and Ed Vickar Jewish Museum of Western Canada and the Freeman Family Foundation Holocaust Education Centre to become the Jewish Heritage Centre of Western Canada. The Jewish Heritage Centre is now performing all the functions of the Museum, Holocaust Centre, and Historical Society combined, to continue to preserve the Heritage of the Jewish people of Western Canada.
Activities
Lectures and Publications
We annually sponsor a series of lectures, concentrating mainly on the Jewish experience in Western Canada.
Our publication program began with a selection of early lectures, entitled A Selection of Papers Presented in 1968-69. This was followed by a second publication, A Selection of Papers Presented in 1969-70. More recent issues are Jewish Life and Times, Volume III, published in 1983, and Volume IV, published in 1985. The 1988 publication, Volume V, celebrated our twentieth anniversary. Volume VI was published in 1993. And Volume VII, Womens' Voices: Personal Recollections was published in March 1999. Current and recent issues may be obtained from the Society; they are available also in many public and academic libraries.
Past issues of our publication Jewish Life and Times are available from the Jewish Heritage Centre of Western Canada for $10.00 each.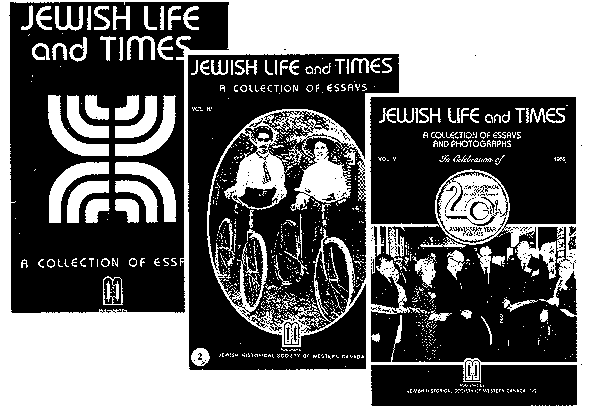 Oral History
We engage in a continuous oral history program, interviewing individuals in a variety of contexts: Holocaust survivors, people in the needle trades and the trade union movement, veterans of World War II, residents of Selkirk Avenue for a glimpse into a Jewish milieu, members of three-generation families to determine changes in attitudes and mores in Jewish life, and Jewish personalities and pioneers in general. Summary transcripts are made of all interviews to provide easy access to the material. To date we have completed over 550 interviews.
Our most recent oral history project was "Jewish Involvement in Sports in Manitoba". This was undertaken by sportswriter Harvey Rosen, who carried out interviews with 30 participants. This included both professional and amateur athletes, a team owner, team officials, and a sportscaster. The Jewish Historical Society hopes to publish some of these interviews in the next issue of Jewish Life and Times, the society's publication.
Audio-Video and Films
We have produced a number of films and slide shows that are available to schools and clubs upon request. Slide presentations include: "Homesteaders in Prayer Shawls," the story of the Jewish farm colonies; "Political Figures and Ideological Movements," the story of Jewish political life; and "Religion Without Fear," outlining the development of Jewish religious institutions. Our highly successful films are: "Journey Into Our Heritage: The Story of Jewish Settlement in Western Canada"; "It Must Be Told," interviews with three survivors of the Holocaust; and "An Hour of Lifetimes," interviews with twenty Jews from all walks of life.

Exhibits
The Jewish Historical Society has produced its own exhibits, such as "Journey Into Our Heritage" and "Selkirk Avenue Revisited," and sponsors others of merit and importance, such as "Image Before My Eyes," "The Life Work of Baron Maurice de Hirsch," and "A Tree Still Stands: The Last Jews of Eastern Europe." Locally, our exhibits have been shown at community centres, museums, schools, universities, shopping malls and other public places, and they have travelled across Canada and as far away as Israel.
Now the Jewish Heritage Centre has its own exhibit space, that being the Marion and Ed Vickar Jewish Museum
Special Events
The Jewish Historical Society was a founding member of the Manitoba Multicultural Museums Committee. Under its auspices in 1985, we participated in the award-winning "Treasures and Traditions," an exhibit of ethnocultural art. In May and June, 1986, we were hosts for the annual Canada-wide meeting of the Canadian Jewish Historical Society in the Learned Societies Conference at the University of Manitoba. In this three-day event, planned and organized by the Society, papers of special Jewish interest were presented by invited scholars.
In the summer of 1995, we co-organized and held a three-day Jewish-Mennonite-Ukrainian Conference with the theme: "Building Bridges: Jews, Mennonites, and Ukrainians in Canada". This first-of-its-kind Conference included dozens of speakers and attracted hundreds of delegates from all over North America. It very much succeeded in its goals to describe and interpret the interactions among these three communities and to foster a greater understanding for future interactions.
Founders and Builders and Charter Members were honoured at the Double Chai (36th) anniversary banquet of the Jewish Historical Society of Western Canada, Sunday, October 31, 2004 at Etz Chaim Synagogue: Among the founders of the JHSWC, (seen above) are (I. to r.) Jacob and Bertha Plotkin, Harry Gale, Nathan Arkin, Berl Miller and Ron Zimmerman, with some of the first photos collected spread out before them.
The Founders were the original members of the History and Archives Committee of Canadian Jewish Congress Western Region who participated in the first acquisition campaign which led to the exhibit: "90 years of Jewish Life in Western Canada" the Hargrave St. YMHA in September 1967. In December /67 the History and Archives Committee decided to establish the Jewish Historical Society which was formally inaugurated in May 1968.
Founders and Charter Members of the Jewish Historical Society of Western Canada were Honoured at Heritage Centre Banquet, Sunday October 31, 2004
The Archives founders included: Nathan Arkin, Abe Anhang, Abe Arnold, Esther and Roy Caloff, Dr. Fischel Coodin, Harry Gale, Esther and Roy Caloff, Dr. Sheppy Hershfield, Harvey Herstein, A. M. (Monte) Israels, Q.C., Joe Lavitt, David Levin Q.C., Boris Margolis, Berl Miller, George Skulsky, Goldie Steinberg, Maitland Steinkopf, Q.C., Roz Usiskin, Cy Waldman, Ron Zimmerman.
Monte Israels, the Founding President of the Jewish Historical Society, circulated a letter inviting people to become "charter members" of the JWSWC for a $5.00 annual fee. In December 1968, Alex Shanas, membership chair, reported a paid membership of 97, but since "most memberships are in the name of husband and wife, the total is considerably higher." By July, 1969, there were 107 names on the membership list representing a total of 176 individuals. The honours list includes all past presidents, staff members and other builders of the society.
Archives
The Jewish Historical Society of Western Canada worked very hard to make their magnificent archival and artifact collection grow. Photographs, taped interviews, many hundreds of manuscripts and other documents. From schools, synagogues, and other organizations, there were minutes, letters, charters, seals, photographs of executives and entire memberships, and class photos. These include valuable papers, diaries and correspondence from prominent members of the community, but the photographs and memorabilia of ordinary citizens are no less valuable: passports, ship tickets, photos indicating various stages of acclimatization, family gatherings, outings, and individual portraits. Constantly we urge people to make their families part of this rich treasure trove by adding their own personal histories to the hundreds already included. If you have material you would like to donate, please see our Donate page.