'Freeman Family Foundation Holocaust Education Centre Museum' Exhibition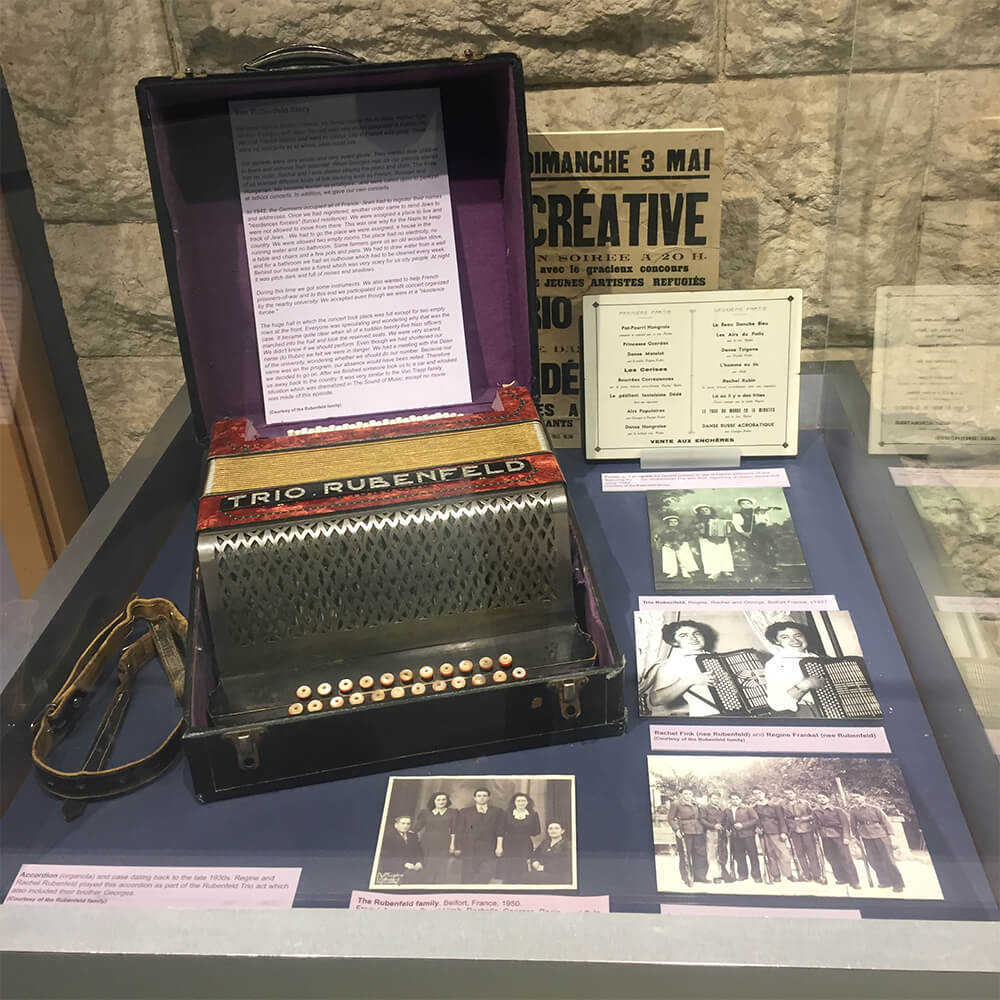 We were born in Belfort, France. My family (father David Hirsh, mother Cyla, brother Georges and sister Rachel) was very much integrated in French life. We had French friends and went to school. Life in France was good. There were no restraints as to where Jews could live.
Our parents were very artistic and very avant-garde. They wanted their children to learn and achieve their potential. When Georges was six our parents started him on violin. Rachel and I also started playing the piano and violin. The three of us learned different kinds of folk dancing such as French, Russian and Hungarian. We became known as prodigies…and were called upon to perform at school concerts. In addition, we gave our own concerts.
In 1942, the Germans occupied all of France. Jews had to register their names and addresses. Once we had registered, another order came to send Jews to "résidences forcées" (forced residence). We were assigned a place to live and were not allowed to move from there. This was one way for the Nazis to keep track of Jews…We had to go the place we were assigned, a house in the country. We were allowed two empty rooms. The place had no electricity, no running water and no bathroom. Some farmers gave us an old wooden stove, a table and chairs and a few pots and pans. We had to draw water from a well and for a bathroom we had an outhouse which had to be cleaned every week. Behind our house was a forest which was very scary for us city people. At night it was pitch dark and full of noises and shadows.
During this time we got some instruments. We also wanted to help French prisoners-of-war and to this end we participated in a benefit concert organized by the nearby university. We accepted even though we were in a "résidence forcée."
The huge hall in which the concert took place was full except for two empty rows at the front. Everyone was speculating and wondering why that was the case. It became quite clear when all of a sudden twenty-five Nazi officers marched into the hall and took the reserved seats. We were very scared. We didn't know if we should perform. Even though we had shortened our name (to Rubin) we felt we were in danger. We had a meeting with the Dean of the university, wondering whether we should do our number. Because our name was on the program, our absence would have been noted. Therefore we decided to go on. After we finished someone took us to a car and whisked us away back to the country. It was very similar to the Von Trapp family situation which was dramatized in The Sound of Music, except no movie was made of this episode.
(Courtesy of the Rubenfeld family)
Poster and program for benefit concert in aid of French prisoners-of-war featuring the Rubin (Rubenfeld) Trio with their repertoire of music, dance and song, 1942
(Courtesy of the Rubenfeld family)
Poster for concert in Belfort, France featuring the Rubenfeld Trio, c.1938
(Courtesy of the Rubenfeld family)
Accordion (organola) and case dating back to the late 1930s. Regine and Rachel Rubenfeld played this accordion as part of the Rubenfeld Trio act which also included their brother Georges.
(Courtesy of the Rubenfeld family)
The Rubenfeld family, Belfort, France, 1950
From left to right: David Hirsh, Rachelle, Georges, Cyla
(Courtesy of the Rubenfeld family)
The Rubenfeld Trio, Belfort, France, 1937
From left to right: Regine, Rachelle and Georges
(Courtesy of the Rubenfeld family)
Activists in the resistance movement in France
Georges Rubenfeld is second from right
(Courtesy of the Rubenfeld family)