'Freeman Family Foundation Holocaust Education Centre Museum' Exhibition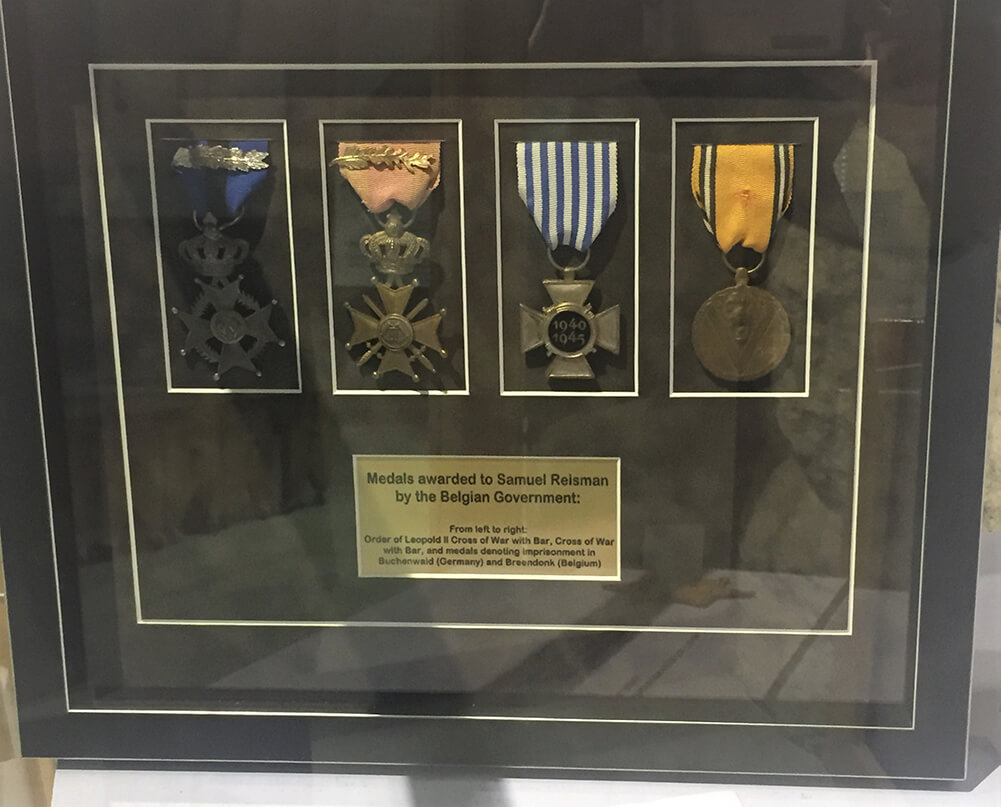 Samuel Reisman was involved in the Resistance movement in Belgium during World War II. As in other countries occupied by the Nazi regime, Jews in Belgium were forced to wear the yellow Star of David, so that they could be easily identified from the rest of the population. This is the Star of David that Samuel Reisman wore. Reisman was eventually arrested (one day after his son's first birthday) for his Resistance activity, imprisoned at the St-Gilles jail, in Brussels, and then sent to Breendonck concentration camp in Belgium, where he was tortured. Later, he was sent to Buchenwald Concentration Camp, still as a political prisoner. There, as he spoke many European languages, he was used as an interpreter, which permitted him some freedom of movement. It allowed him to give the Jewish children who had come from Auschwitz, access to the political prisoners' camp in order to be better fed.
At one point, an SS officer informed Reisman that he had been condemned to be hanged the following day for allowing Jewish children to enter the compound, where the political prisoners lived. To save him, the SS officer took Reisman to the salt mine, where he hid for quite awhile. The officer would come from time to time to give him food. After awhile, the SS came for him, gave him his revolver and declared himself Reisman's prisoner, as Buchenwald had been liberated.
The Belgian government awarded Samuel Reisman with the ordre de Léopold II avec croix de guerre – Order of Leopold II – Cross of War, which was the second highest medal awarded for military valour in Belgium at the time.
Yellow Star of David inscribed with the "J" (in Belgium this would stand for both "Jood" and "Juif" –or Jew in the two official languages of Belgium) also belonged to Mr. Reisman. The Nazis decreed that this must be worn by all Jews as a means of identification, and a symbol of shame. It was first introduced in Germany in September of 1941.