'Freeman Family Foundation Holocaust Education Centre Museum' Exhibition
Silver Items on Loan from Belle Jarniewski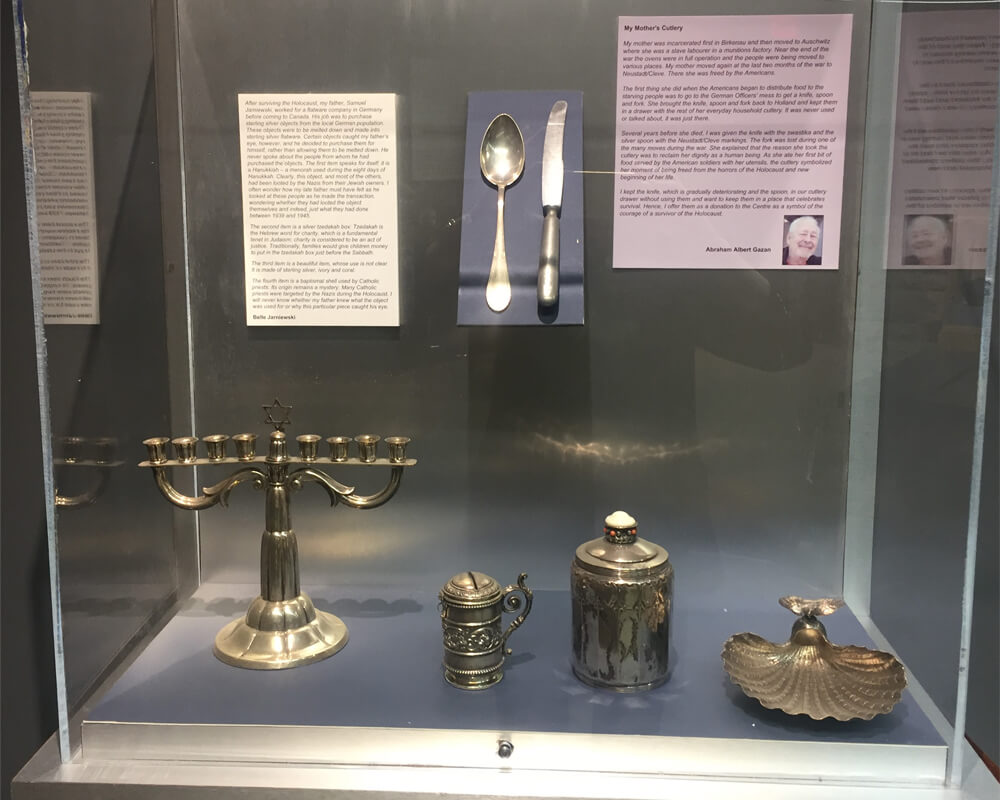 After surviving the Holocaust, the late, Samuel Jarniewski, worked for a flatware company in Germany before coming to Canada. His job was to purchase sterling silver objects from the local German population. These objects were to be melted down and made into sterling silver flatware. Certain objects caught my father's eye, however, and he decided to purchase them for himself, rather than allowing them to be melted down. He never spoke about the people from whom he had purchased the objects. The first item speaks for itself; it is a Hanukkiah – a menorah used during the eight days of Hanukkah. Clearly, this object, and most of the others, had been looted by the Nazis from their Jewish owners. I often wonder how my late father must have felt as he looked at these people as he made the transaction, wondering whether they had looted the object themselves and indeed, just what they had done between 1929 and 1945…
The second item is a silver tzedakah box: Tzedakah is the Hebrew word for charity, which is a fundamental tenet in Judaism; charity is considered to be an act of justice. Traditionally, families would give children money to put in the tzedakah box just before the Sabbath.
The third item is a beautiful item, whose use is not clear. It is made of sterling silver, ivory and coral.
The fourth item is a sterling silver baptismal shell.
Silver Items Donated by the late Albert Hazan (top right)
Albert Hazan's mother was deported from The Netherlands to Auschwitz where she was a slave labourer in a munitions factory. In the last two months of the war, she was sent to Neustadt/Cleve, from which she was eventually liberated by the American army. The first thing she did when the Americans began to distribute food to the starving prisoners was to go to the German officers mess to get a knife, spoon and fork. She brought these back with her on her return to The Netherlands and kept them in a drawer with the rest of her household cutlery; however they were never used or talked about.
Several years before she died, she gave son, Albert, the knife with the swastika and the silver spoon with the Neustadt/Cleve insignia. The fork had been lost during the many moves during the war. She explained that the reason she had taken the cutlery was to retain her dignity as a human being. As she ate her first bit of food by the American soldiers with her utensils, the cutlery symbolized her moment of being freed from the horrors of the Holocaust and a new beginning of her life.