Samuel and Sylvia Jarniewski
'Freeman Family Foundation Holocaust Education Centre Museum' Exhibition
Samuel and Sylvia Jarniewski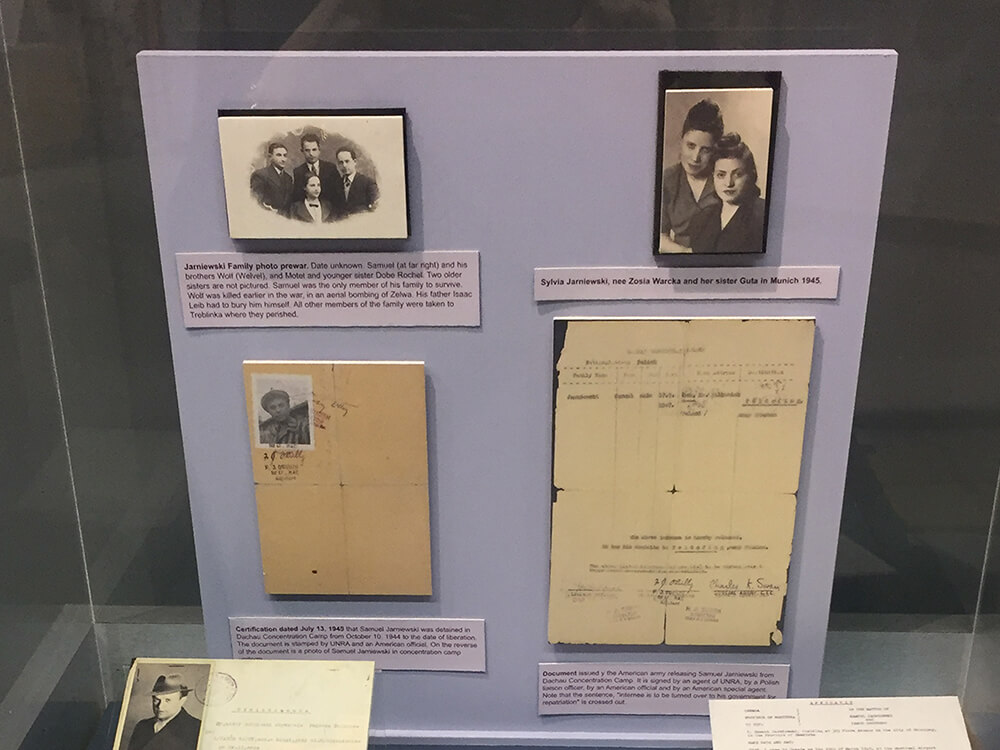 Through the life my father Samuel Jarniewski, led, he defined for me the very essence of the human spirit, of undying hope and belief in the future. The Holocaust robbed him of every member of his family, of his wife and of his young son whom fate decreed he would never to see or touch. His life after the Holocaust was touched over and over again with tragedy, and yet he continued – as always – to lead a productive and positive life filled with the joy of everyday living. His legacy to me was the knowledge that all of us have within our souls the strength to overcome whatever difficulties and even tragedies that life may have in store for us.
Having been conscripted into the Polish army, my father was taken prisoner by the third week of World War II, at the age of 32. He left behind his pregnant wife, his father, a Torah scribe, his three sisters and two brothers. His mother had succumbed to the influenza epidemic that had occurred when he was a child. The Jewish POW's were soon separated from the others and my father was sent to a succession of concentration camps including the infamous Plaszow, portrayed in the movie Schindler's List. At the end of the war, having survived six years of incarceration in camp after camp, torture and unspeakable horror, he was liberated from Dachau Concentration Camp. By then, he had lost his entire family and extended family, including his wife and the infant child, Moyshele, whom he had never seen. Other than his brother Wolf, who perished in a bombing raid of their town, Zelwa, all of the other family members were sent to Treblinka where they were murdered. My father maintained lifelong friendships with those whom he had met in the camps. More than one credited him with saving their lives. He arrived in Canada in 1948 and built a new life with a young widow and fellow Holocaust survivor, my mother. They were introduced by mutual friends.
My mother, Sylvia Wartcka, was born in Lodz, Poland into a secular home. She was an avid student who dreamed of becoming a teacher one day. The war put an end to her plans. At the age of 14, she was herded into the Lodz ghetto along with her parents and younger brother, Natan. Natan was taken in an Aktzion in 1941 and sent to Chelmno where he was gassed upon arrival. Her parents died within five months of each other in 1942 of starvation and she was left alone in the ghetto. In 1944, when the ghetto was liquidated, she was sent to Auschwitz. After one month, through her courage and sheer nerve, she managed to get herself into a transport to another camp – Halbstadt, a sub-camp of Groβ Rosen, from which she was liberated at the end of the war. She married Heinrich Bywalski in a DP camp in Germany. Tragically, he died in an accident when she was eight months pregnant with my brother. Arriving in Canada in 1950, two months before the great flood, she started her life anew, marrying my father in 1952.
-Belle Jarniewski
Artefacts:
Jarniewski Family photo prewar- Date unknown. Samuel (at far right) and his brothers Wolf (Welvel), and Motel and younger sister Dobe Rochel. Two older sisters are not pictured. Samuel was the only member of his family to survive. Wolf was killed earlier in the war, in an aerial bombing of Zelwa. His father Isaac Leib had to bury him himself. All other members of the family were taken to Treblinka where they perished. (top left)
Photo- Sylvia Jarniewski, nee Zosia Warcka and her sister Guta in Munich 1945 (top right)
Certification dated July 13, 1945 that Samuel Jarniewski was detained in Dachau Concentration Camp from October 10, 1944 to the date of liberation. The document is stamped by UNRRA and an American official. On the reverse of the document is a photo of Samuel Jarniewski in concentration camp uniform. (bottom left)
Document issued y the American army releasing Samuel Jarniewski from Dachau Concentration Camp. It is signed by an agent of UNRA, by a Polish liaison officer, by an American official and by an American special agent. Note that the sentence, ""internee is to be turned over to his government for repatriation" is crossed out.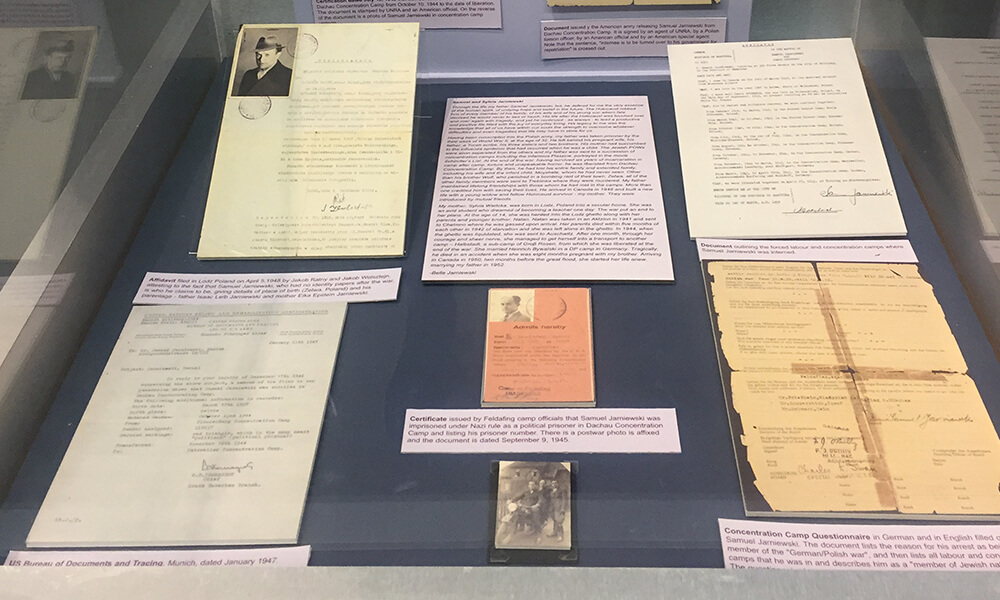 Affidavit filed in Lodz Poland on April 5, 1948 by Jakob Ratny and Jakob Wolsztejn, attesting to the fact that Samuel Jarniewski, who had no identity papers after the war, is who he claims to be, giving details of place of birth (Zelwa, Poland) and his parentage – father Isaac Leib Jarniewski and mother Elka Epstein Jarniewski. (top left)
Document outlining the forced labour and concentration camps where Samuel Jarniewski was interned. (Top right)
UN Relief and Rehabilitation Administration (UNRRA) document Loan US Bureau of Documents and Tracing, Munich, dated January 1947. Document detailing details of internment of Samuel Jarniewski in Dachau, including prisoner number, markings (red triangle denoting political prisoner). Centre left)
Certificate issued by Feldafing camp officials that Samuel Jarniewski was imprisoned under Nazi rule as a political prisoner in Dachau Concntration Camp and listing his prisoner number. There is a postwar photo is affixed and the document is dated September 9, 1945. Centre middle)
Concentration Camp Questionnaire in German and in English filled out by Samuel Jarniewski. The document lists the reason for his arrest as being a member of the "German/Polish war", and then lists all labour and concentration camps that he was in and describes him as a "member of Jewish nationality". The questionnaire is typed in English but my father would not have known English at that time, so someone must have translated his answers. The document is stamped by an American lieutenant adjutant, a special agent and an UNRRA director. (Centre right)
Photo – Samuel Jarniewski in postwar photo c. 1946 with fellow survivors (Bottom centre)