Rabbi Peretz Weizman Memorial Exhibit Case
'Freeman Family Foundation Holocaust Education Centre Museum' Exhibition
Rabbi Peretz Weizman Memorial Exhibit Case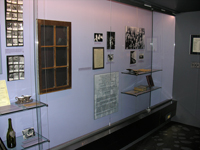 Before entering the Holocaust Education Centre, visitors will visit the Rabbi Peretz Weizman Memorial Exhibit Case to get a preview of the exhibits through the prism of Rabbi Weizman's experiences and family tragedies. The Weizman exhibit is divided into three themes which are explained through photographs, documents, and artefacts with textual amplifications.
First, the exhibits profile the pre war life of the Jewish people before World War II including the deepening persecution of the Jews in the early years of Nazi power in Germany. Artefacts in this section include religious and secular objects such as Sabbath candlesticks and passports contributed by Survivors and their families. Photographs and explanatory help explain their significance.
Second, a display on Kristallnacht (Night of Broken Glass) shows the significance of this first use of Nazi violence on a mass scale which foreshadowed the seizure of people from their homes and families, and their impending destruction. The Holocaust Education Centre draws on the rich collection of artefacts contributed by survivors who lived all over Europe, from France in the West to the Soviet Union in the East, to illustrate the fate of Jews in this terrible period.
Third, the display focuses on the experience of Rabbi Weizman and his family presented both for itself and as an example of what visitors will learn more fully inside. The Weizman family has generously provided a wide selection of pre-war, wartime, and post-war artefacts, documents, and photographs, some of which are displayed here. These include pre-war family documents such as marriage and birth certificates, and account books from the Weizman pre-war pharmaceutical and chemical supply house. From the period of Nazi control, there is family correspondence from the Lodz and other ghettos written in Yiddish, Polish, and German, and identification cards issued by the Ghetto Employment Office. There are post-war materials from Poland as well as photographs, documents, and books from Rabbi Weizman's fifty years of service to the Winnipeg. Jewish community.
– Dr. Daniel Stone, President, Jewish Heritage Centre