'Freeman Family Foundation Holocaust Education Centre Museum' Exhibition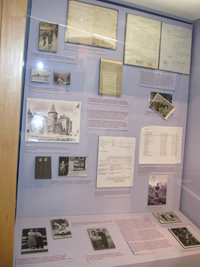 The experiences of the Maurits Kiek and Marianne Manheim Kiek are typical of Holocaust tragedies in that they and approximately 100 family members were forced to wear the Jewish Star, lost their homes and business, lived in a ghetto, and finally were murdered by the Nazis. Their experiences are also unusual because the legal system of the occupied Netherlands provided more documentation than the occupation regimes in eastern Europe provided. As a result, we have a clear picture of the Nazi machine at work.
The Kieks' two daughters survived. Estella married a non-Jewish man before the war and escaped Nazi attention, even she wore the Jewish star throughout the occupation. Carla procured false papers and worked as a maid in northern Holland. Estella's daughter, Carla Divinsky, lives in Winnipeg.
Maurits Kiek wrote verse in his spare time. This personally illustrated album contained verses written by different relatives as advice to the Kieks's newly-born daughter when she was born in 1920. Maurits's verses lovingly urge her to be obedient and work hard in school. (Centre)
The handwritten sheet of paper as a fragment of speech that Maurits made at Estella's wedding. It tells about how her parents, Marianne and Maurits, met. (Top centre)
Photograph of Maurits Kiek standing in front of the modest neighbourhood shop in Hilversum, a distant suburb of Amsterdam that he opened in 1932. He was a goldsmith, silversmith, watch repairman, and optician. (Bottom centre)
Maurits Kiek also enjoyed making sketches in his spare time such as this sketch of a Dutch castle. Kiek was a relative of the noted Dutch-Jewish artist, Josef Israels. (Left, third row from top)
Photograph Maurits and Marianne Manheim Kiek at the wedding of their daughter, Estella, in Hilversum, Netherlands in 1937, a happy occasion in their calm pre-war existence. (Top left)
As these pre-war photographs show, the Kieks spent their holidays at the beach with friends and family, including their first grandchild. (Left, second row from top)
Photograph of Maurits Kiek and several cousins taken after May 1942 when Jews were required to wear a yellow Star of David prominently. (Right, second row from top)
Eugene Josef – one of the 1000 orphans accepted by Canada who made Winnipeg their home and a member of ANAV c.1950 in Canada (bottom right)
Ledge:
Barbara Goldfischer Schneid Goszer was born in Lwów, Poland, the daughter of Sali and Shulim and sister of Antonina. In her own words, she led "a dreamlike childhood…a privileged and often indulged child of an upper middle class family." This all changed with the outbreak of World War II Ghetto life in Lwów was brutal, but at least the family was still together. This changed tragically in August of 1942 when Barbara's adored sister was swept up in an Aktion along with her cousin Thea and sent to Belzec where they were gassed. Barbara hid in various places, including a bunker that her father and uncle had built and a shelf over a bathtub where she would spend 15 to 18 hours at a time. Finally, her father arranged for her to be spirited out of the Ghetto, to be hidden with a Catholic family.
After the war, she travelled across Europe in the hope of finding surviving family members, but to no avail. At the same time, she worked on catching up on the years of education that she had lost during the war years. Eventually, she boarded a ship for Canada, as one of 1000 orphans permitted to enter Canada through the efforts of the Canadian Jewish Congress. Barbara arrived in Canada on January 13, 1948 at Halifax, Nova Scotia. On January 16, 1948, she arrived at Winnipeg with a small group of other young people under the age of 18. She has been very involved in community and outreach work and is one of the founders of the Freeman Family Holocaust Education Centre and was its first chair.
Sali and Shulim Goldfischer on holiday in Jaremcze, Poland, 1937.The Goldfischers managed to arrange for their youngest daughter Barbara to live with a non-Jewish family, posing as their daughter, The rest of the family was sent to the Lwów Ghetto. None of them survived. (Left)
Sisters Tonia and Barbara Goldfischer, ages 14 and 8, Ywonicz, Poland, 1938. The family had gone to the resort and health spa as Barbara was recovering from scarlet fever (Centre ledge upper).
Fourteen-year old Barbara Goldfischer along with her gentile school friends, Nisko Poland, August 1944. None of her friends knew or found out that Barbara was from a Jewish family (Centre ledge, lower).
Barbara Goldfischer , Phyllis Newman and two friends a St. John's Park, Winnipeg, Spring 1948. All four of them arrived in Winnipeg in January 1948 with one of the war orphan groups (Ledge – right).
Adam Goszer was born in Korzec, Poland, the son of Pesel and Eliyahu Goszer and brother of Rachel and Boris. From July to September of 1941, he was in the Korzec Ghetto and worked as a labourer in the sugar factory. He went into hiding in September of 1941 in Budki Ostenski until the beginning of 1942, thanks to the help of Wanda and Jŏzek Wienckowski. He then joined the Shitowski Otriad of Partisans, whose activities included blowing up railroads, sabotaging military transports and Nazi-occupied stations.
Adam Goszer with two Russian soldiers when Gliwice Poland was liberated in 1945. (ledge-bottom right)